Food quality directly influences the way your brain functions.
Nutrition and Recovery
Whenever your body isn't producing enough of the right nutrients or they are out of balance, you will naturally start to feel irritable and anxious as your serotonin levels fluctuate.
Inside the first year or two of recovery, your nutritional requirements are much higher than normal and thus establishing healthy eating routines is vital to your recovery. Your full body needs to recover, and thus a mindful diet is an important step toward restoring your bodies natural balance with all organs functioning as they are intended.
Natural Serotonin Balance
Specific foods restore the natural ability to produce serotonin which is an important component for restoring your sense of wellbeing and positive moods. Eating foods containing the amino acid known as "tryptophan" enables the body to produce serotonin naturally again. The body does not make tryptophan on its own thus requires dietary inclusion at the standard meal intervals to facilitate natural digestive processes.
Higher intakes of carbohydrates and complex carbohydrates that are found in beans, lentils and peas and root vegetables like carrots will start working toward restoring your natural balance. Foods such as salmon, poultry, eggs, spinach, seeds, milk, soy and nuts are also important to the introduction of tryptophan and restoring natural serotonin levels.
Food To Help With Depression
Other foods shown to have antidepressant benefits include oysters, mussels, other seafood, leafy greens, lettuce, peppers, and cruciferous vegetables such as broccoli, cauliflower, cabbage, kale, and Brussels sprouts. Nutrients like zinc, magnesium and omega-3 fatty acids enhance neuroplasticity helping with the resilience of the mind when under stress.
Mindful Of Your Intake
Your intention with your nutrition is to maintain the ecosystem that supports your mind, organs. By neglecting one part of that cycle you will negatively impact the others and the cycle continues. The odd indulgence won't throw you into a tailspin, but just being aware that the bulk of your food intake is quality foods as outlined below.
The intent behind regimented meal routines, cutting out unhealthy snacks, creating conscious reminders that your new routine must include healthy food (appropriate portions) is simply part of your recovery journey and your self-care.
If you are not the "chef type" fresh food delivery services in South Africa are easy to come by and relatively inexpensive.
Recovery Direct works closely with our catering service called "Raw Catering" to ensure that premium quality meals prepared onsite and that exceed all the criteria we require to optimally help our patients in the early stages of their recovery (and of course be delicious too).
---
The Healthy Eating Plate Example
The following excerpt is from Harvard University that conducted optimal nutrition research into what constitutes an optimal human diet. They simplified the research into an easy to follow diagram called the "Healthy Eating Plate".
Many of these principals we have applied to our catering services at Recovery Direct but can be easily replicated and suited to the kinds of foods you enjoy most to make your transition to your healthy eating routines palatable.
If you would like to explore more specific evidence-based diets. Recovery Direct follows the progressions in low-carb, whole-food diets, Mediterranean diets, paleo diets, vegan diets and gluten-free diets applied in the format below depending on a range of factors.
---
Focus on eating high-quality foods in appropriately sized portions.
Rather than choosing foods based only on caloric value, think instead about choosing high-quality, healthy foods, and minimizing low-quality foods.
High-quality foods include unrefined, minimally processed foods such as vegetables and fruits, whole grains, healthy fats and healthy sources of protein.
Lower-quality foods include highly processed snack foods, sugar-sweetened beverages, refined (white) grains, refined sugar, fried foods, foods high in saturated and trans fats, and high-glycemic foods such as potatoes.
There isn't one "perfect" diet for everyone, owing to individual differences in genes and lifestyle.
The Healthy Eating Plate
Use the Healthy Eating Plate as a guide for creating healthy, balanced meals—whether served on a plate or packed in a lunch box. Put a copy on your refrigerator to serve as a daily reminder!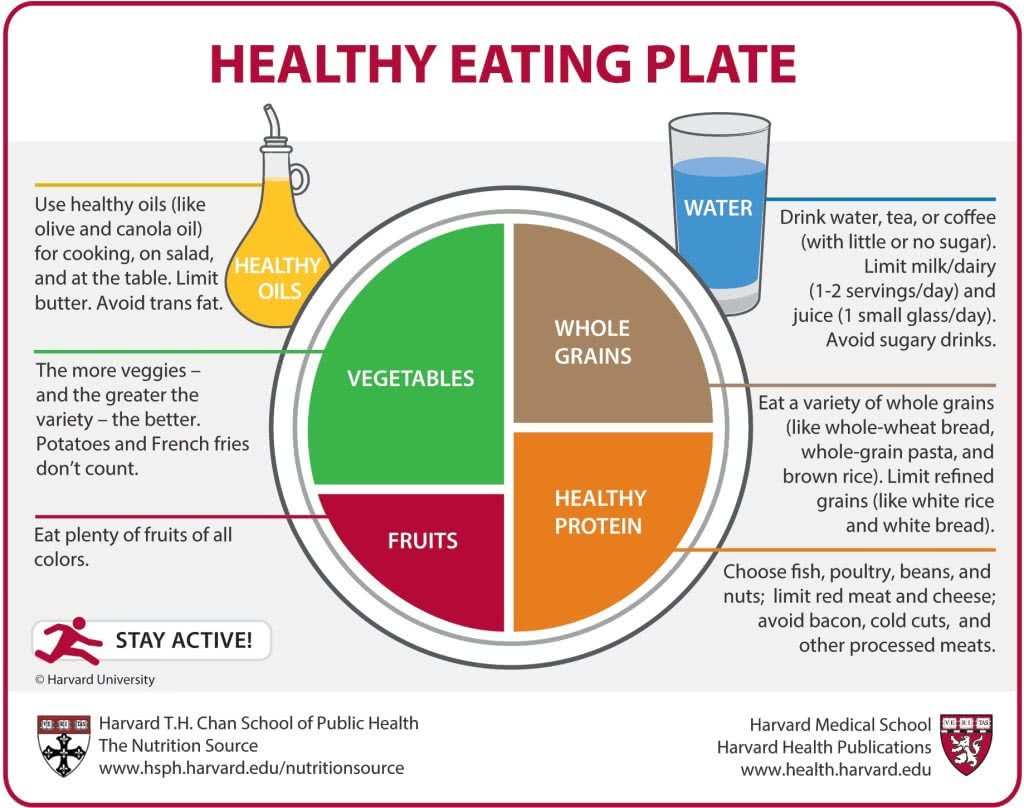 Make most of your meal vegetables and fruits – ½ of your plate:
Aim for colour and variety, and remember that potatoes don't count as vegetables on the Healthy Eating Plate because of their negative impact on blood sugar.
Go for whole grains – ¼ of your plate:
Whole and intact grains—whole wheat, barley, wheat berries, quinoa, oats, brown rice, and foods made with them, such as whole wheat pasta—have a milder effect on blood sugar and insulin than white bread, white rice, and other refined grains.
Protein power – ¼ of your plate:
Fish, poultry, beans, and nuts are all healthy, versatile protein sources—they can be mixed into salads, and pair well with vegetables on a plate. Limit red meat, and avoid processed meats such as bacon and sausage.
Healthy plant oils – in moderation:
Choose healthy vegetable oils like olive, canola, soy, corn, sunflower, peanut, and others, and avoid partially hydrogenated oils, which contain unhealthy trans fats. Remember that low-fat does not mean "healthy."
Drink water, coffee, or tea:
Skip sugary drinks, limit milk and dairy products to one to two servings per day, and limit juice to a small glass per day.
The red figure running across the Healthy Eating Plate's placemat is a reminder that staying active is also important in weight control.
The type of carbohydrate in the diet is more important than the amount of carbohydrate in the diet because some sources of carbohydrate—like vegetables (other than potatoes), fruits, whole grains, and beans—are healthier than others.
The Healthy Eating Plate also advises consumers to avoid sugary beverages, a major source of calories usually with little nutritional value.
The Healthy Eating Plate encourages consumers to use healthy oils, and it does not set a maximum on the percentage of calories people should get each day from healthy sources of fat. In this way, the Healthy Eating Plate recommends the opposite of the low-fat message promoted for decades across the world.
You can read more here.