An interesting development in the local cannabis news yesterday. The exclusion of Cannabidiol (CBD) an oil compound derived from cannabis has had the legislation door opened for the next 12 months to the South African public. The Minister of Health in South Africa essentially signed new legislation permitting the sale and distribution of low dose CBD products to the South African public.
Typically CBD compounds have been seen as "non-addictive" or "non-psychoactive" and are found in specific cannabis plant species that are cultivated for their "medicinal" purposes.
For the last few decades, CBD compounds have risen in cannabis culture popularity and have been hailed in the treatment of anxiety, insomnia, chronic pain, arthritis, seizures a broad range of medical conditions. To date, the production and sale of CBD have been for the most part illegal in South Africa and thus local research into the efficacy of health claims has largely been stunted and/or resulted in contested battles between lawmakers and cannabis activist organizations.
The re-scheduling of CBD poses many new questions with respect to the rapidly evolving laws in South Africa around the cultivation and consumption of cannabis-based products. To provide some perspective on this development, CBD was previously a schedule 7 drug and in the same legal classification as heroin, yet as of yesterday CBD is allowed to be sold as a schedule 4 drug and may soon be available with (some advertising caveats) alongside everyday antibiotics in a pharmacy near you.
As an addon to this reclassification or scheduling of CBD in South Africa, the Health Minister Aaron Motsoaledi stated on Thursday that Cannabidiol (CBD) would fall outside of the drug regulations over the next 12 months. That means CBD products (within some stipulated dosages) are allowed to be sold without any prescription necessary (which is something our local activist groups have been pushing for a while).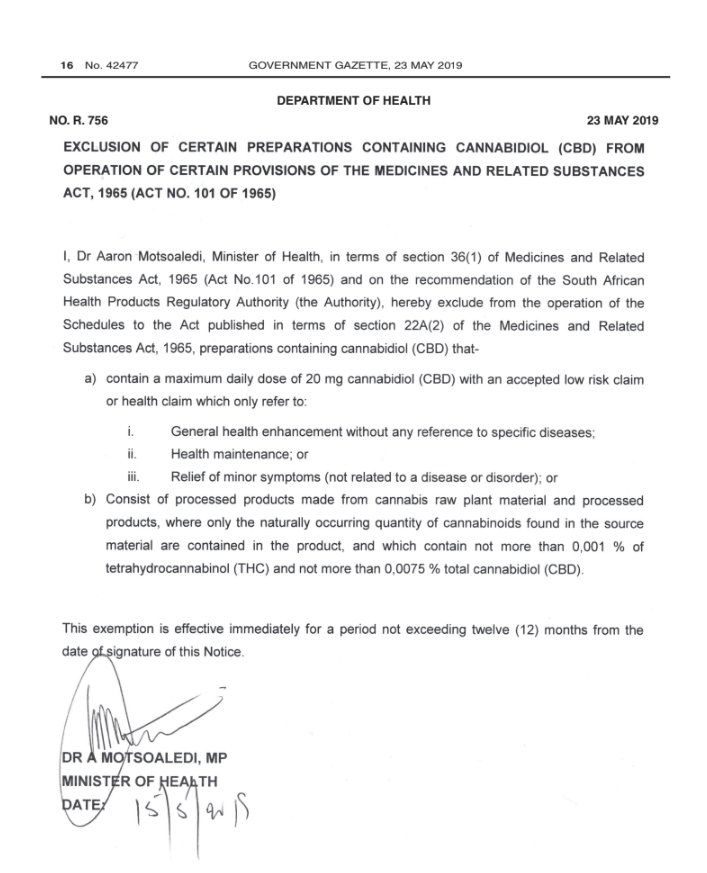 From the minister of health in South Africa
I, Dr Aaron Motsoaledi, Minister of Health, in terms of section 36(1) of Medicines and Related Substances Act, 1965 (Act No. 101 of 1965) and on the recommendation of the South African Health Products Regulatory Authority (the Authority), hereby exclude from the operation of the Schedules to the Act published in terms of section 22A(2) of the Medicines and Related Substances Act, 1965, preparations containing cannabidiol (CBD) that-
You can view the full Government Gazette here.
About Recovery Direct
Recovery Direct is one of the most exclusive and effective addiction treatment centres in South Africa and provides guidance and expert counselling services that enable clients to overcome addiction based behaviours. The recovery centre is based in Cape Town and operates fully managed inpatient, outpatient and aftercare programmes that are customised around each client.