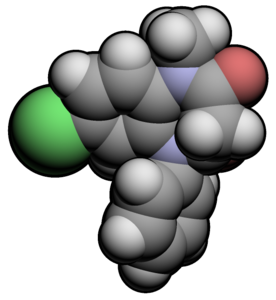 Urbanol (Clobazam) is often marketed as Onifi, Frisium, and Tapclob as an anxiolytic and anticonvulsant tranquillizer belonging to the sub-group classification of anxiolytics, sedatives and hypnotics also known as benzodiazepines.
Urbanol is most often prescribed as an anti-seizure medicine and too in the treatment in anxiety-related disorders. It is meant to have lesser sedative effects than the similar benzodiazepines in its class due to a number of alterations in the chemical composition. However, it is still, uncertain if there are any additional benefits of clobazam over that of other anticonvulsant medications for children that exhibit Rolandic childhood epilepsy or other such epileptic syndromes.
Urbanol is usually taken orally and comes in packs of 30 tablets with three different strengths: 5 mg, 10 mg and 20 mg or a suspension depending on the country of use.
How Is Urbanol Used?
Urbanol is most often used as part of a prescription in treating epilepsy and anxiety related disorders. As a benzodiazepine derivative, it may also be used in monotherapy for epilepsy or intermittent seizures. Clobazam prescriptions may have slightly different applications from country to country depending on the local market drug approvals.
How Long Does Urbanol Stay in your System?
The half-life elimination time in children who take Urbanol is around 16 hours. Yet For adults, it's between 36 and 42 hours. There is also a metabolite left behind by Urbanol that has a half-life of up to 82 hours. Due to the extended action of the drug, Urbanol can show up on drug screens for an extended period of time. Given that Clobazam is a long-acting benzodiazepine, withdrawal may start later than that of a drug with a shorter half-life. Users may start to experience withdrawal symptoms from 24 to 48 h (even longer) after stopping usage.
Is Used for Anxiety
Urbanol has been approved for use in the treatment of anxiety. In South Africa, clobazam has been approved for use as adjunctive therapy for epilepsy and in acute and chronic anxiety.
Can You Take Urbanol On An Empty Stomach?
Urbanol may be taken with food or even on an empty stomach. However one should avoid drinking grapefruit juice while taking this medication as it can increase the levels of clonazepam in your blood.
Is Urbanol Addictive?
Prescription medication such as Clobazam as with other benzodiazepine drugs can lead to dependence or addiction and what is commonly identified as the benzodiazepine withdrawal syndrome or tranquiliser addiction. Precautions and contraindications of Urbanol are the same as for any other benzodiazepine tranquillizer medication that can lead to physical dependence due to the changes it makes in the brain. Prescription drug addiction is the fastest growing forms of substance use disorder in the world today and benzodiazepine derivatives play a major role in this modern phenomenon. Symptoms are most often related to compulsive or uncontrolled use of the drug outside of the prescribed parameters. Substance use disorders are most often defined as the continued use of a substance in spite of the negative side effects or impacts to the person's health or wellbeing.
When must Urbanol NOT be Used
Clobazam must not be used in cases when
Patients exhibit a Hypersensitivity to Clobazam
Patients exhibit a dependence for medication, drugs or alcohol
In the first trimester of pregnancy,
Lactating women are breastfeeding infants.
Other indications of Urbanol include precautions around 
Reduced doses for children and elderly people
It should be given with caution in patients with myasthenia gravis or respiratory problems or sleep apnea
Clobazam should also be avoided in patients with porphyria
What Are The Most Common Side Effects of Urbanol
The most common side effects of Clobazam include the following indications.
Insomnia and sleep issues
Coughs and or fevers
Painful urination or constipation
Feeling tired or drowsiness
Drooling or slurred speech
Aggressive behaviours
Mixing Urbanol (Clobazam) and Alcohol
Urbanol works as a central nervous system depressant which means that the symptoms of use act as any typical depressant. At high doses, Urbanols effects are much like being under the influence of alcohol which includes drowsiness, slurred speech patterns and loss of motor coordination. Combined with alcohol the depressant effects of both substances are compounded and the risks of overdose or accidents are exponentially increased. Benzodiazepines on their own rarely cause "overdoses" however in combination with alcohol there are a number of dangerous respiratory conditions that can occur and can be fatal. These same respiratory issues are also in effect with the use of any opioid-based medications or drugs. Mixing alcohol and Urbanol may significantly increase the issues related to psychological anxiety and depression.
Benzodiazepine Addiction Treatment Centre
Most individuals that get "addicted" to benzodiazepines need long-term treatment solutions outside of the initial inpatient rehab treatment. These extended treatment programmes usually take the format of outpatient therapy services and invariably differ from client to client. In the Recovery Direct Centre in Cape Town, we have created a specialised programme dedicated to benzodiazepine addictions that are in most cases caused by patients being diagnosed with anxiety related issues and being treated with benzodiazepines without addressing the underlying issues fueling the anxiety or addiction based behaviours.